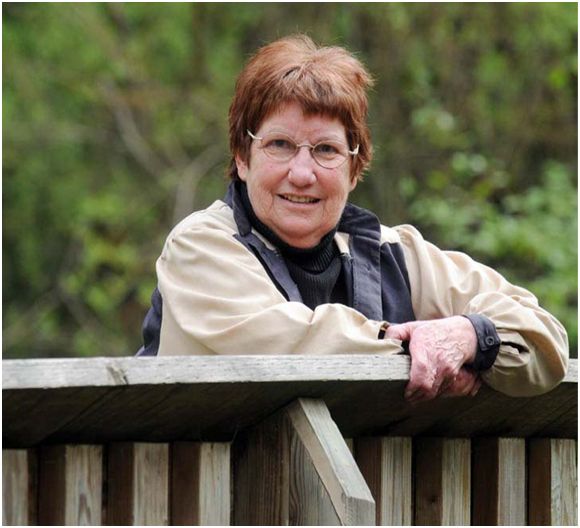 From Maurice Coulter Boisvert, her DFO Community Advisor and friend
Good afternoon
I am very proud to have been asked by Jennifer's family to say a few words about my association with her since 1994 as a community advisor with the salmon enhancement program of Fisheries and Oceans Canada.
Looks like the cancer finally won and stole her from us. It took her body and mind but not her soul, her spirit or the gift of her love, friendship andlasting legacy of environmental successes.
She faced this enemy with the same courage and determination and passion she demonstrated in her long battle to protect and rehabilitate her beloved Stoney Creek to a state of much improved health.
Growing fish is relatively easy compared with protecting, rehabilitating and enhancing habitat.
Her methodical and systematic approach has paid off.The pinnacle of environmental success is the sustainable return of animal populations such as salmon. Some salmon species in Stoney creek are now occupying habitats not available for most of the last century. That's a big deal.
She was masterful at seeking and nurturing relationships with anyone who she felt could assist her to bring about positive change. Most meetings started with hearty handshakes and eventually generous and sincere hugs.
She often let her allies do her bidding, because they knew she was right and because it was the right thing to do.
Development proponents soon discovered they were better off to concede or provide the necessary concessions than to engage in a long and protracted battle with a pit-bull…wearing a great big smile.
What a smile.
She celebrated every success but sometimes had to be reminded that even though she did not get everything she hoped for, that she still made a huge difference. (This was never more evident than with the building of the school next to tributary 1.)
Her accomplishments, accolades and recognition awards are impressive.
I spent many a drive home returning her calls and sharing her issues, concerns, strategies, personalities, computers, water quality, e-mail, developments and the occasional question about what kind of dickie bird I saw at Stoney creek last week.
We became friends and colleagues.
She would continually tell me she didn't know much, but was always thirsty to find out whatever was necessary. She once admitted to me that she "didn't speak the languages" used by engineers, biologists and developers and that she felt inadequate in that regard. She learned to speak these new languages quickly.
She was tireless. When we had the opportunity to provide additional support, Dianne became her assistant and collaborator. I would be cc'd bye-mail regularlyand I began to notice that their flurry of communication would often occur late into the night, and sometimes throughout the night dealing with urgent and imminent problems,concerns and threats.
Although a "birder" to start,Jennifers' passion about protecting and improving habitat in her belovedStoneyCreek Watershed soon led to the formation of the Stoney Creek Environment Committee and subsequent formation of the Stoney Creek Working Group comprised ofthe cities of Burnaby and Coquitlam, Metro Vancouver (formerly GVRD), DFO, and whoever else was needed at the time to ensure that decisions about changes in her watershed considered her community and her values.
Some of the many changes at Stoney Creek over the years that occurred through her efforts include:
-development of the annual Great Salmon Sendoff celebration that celebrated it's 20th anniversary this year
-comprehensive digital stream mapping and inventory
-advocating for the repair and replacement of the Stoney Creek fishway under the railroad tracks. This took a life cycle of coho to accomplish.
-obtaining funding to hire consultants to develop a biological and habitat restoration inventory and plan
-assistance with development of one of the first and one of the most comprehensive storm water management plans with the cities of Burnaby and Coquitlam.
-systematic attempt at improving fish passage starting with the use ofshallow riffle weirs with assistance from Metro Vancouver
-development of off- channel habitat for coho, in cooperation with the city of Burnaby Parks and Metro Vancouver and DFO-RR Group
-negotiating for improvements for fish passage for Chum salmon at the Lougheed highway culverts. When implemented by DFO-Resource Restoration group, this change was one of the most significant and dramatic for salmonsince although now returning Coho salmon could navigate this barrier, other species like Chum could not
When this barrier was removed, Chum and subsequently Pink salmon could now navigate past this former obstruction.. Today, the upper parts of Stoney creek are increasingly becoming colonized by both Chum and Pink salmon. This had not occurred since the construction of the Lougheed Highway in the early fifties
-development and implementation of signage and information kiosks in strategic locations in the watershed
-SCEC became one of the first managers of contracts with DFO for the hiring of a Watershed Stewardship Coordinator
-SCWG participation in lengthy processes attached to Skytrain,Burnaby mountain high school, Greenway corridor development, and development of SimonFraser University's land development plan. With the school development plan in particular, although the school was still built adjacent to a seriously impacted tributary of Stoney Creek, Jennifer was able to obtain concessions to improve habitat and minimize impact with the use of state of the art rainwater management strategies valued at over $1M
-organizing of comprehensive benthic invertebrate, as well as annual adult and juvenile salmon assessments
-organizing of a high school rally to discuss abuse of salmon returning to spawn at Stoney Creek
-assisted with the implementation of an award winning high school documentary about Stoney creek in an urban setting
-mentoring of students in her watershed ie (Salmon song, Greg von Euw, etc.)
-ongoing invasive plant removal , riparian planting, and an advocate for good vegetationmanagement practice withthe utilities
-Participation in negotiations with the City of Burnabyan an unnamed foreign national railroad to sell the rights of way to a freight rail corridor adjacent to a significant tributary of Stoney Creek. Compensation funds held in trust by the school board for construction of the high school named earlier has recently seen the implementation ofprofessional rebuilding and restoration of the stream channel and riparian corridor
-Jennifer served as a backup representative on the SEHAB boardand wasa strong advocate for the SEP
-One of the latest and greatest recent notable successes of her group involves finally getting SFU to admit responsibility for serious negative and chronic impacts to a Stoney Creektributary from management of salt for snow control at the university. Plans for improvements to this problem have led to the very recent initiation of construction of a new $1m salt management facility on Burnaby Mountain.
-advocate for keeping Riparian Area Protection from being changed to the lesser Streamside Protection legislation
-She was awarded the prestigious national Recreational fisheries Award fromDFO in Ottawa
-Lest I forget, Jennifer was recognized for her many achievements by Lieutenant Governor Stephen Pointand the Province of BC for her contributions with a community achievement award in Victoria in 2007
-This May, the PSF recognized Jennifer's many accomplishments over the years with the awarding of the first ever George Hungerford award to support ongoing programs and activities at Stoney Creek in coming years.
No, she has not done this alone…but I'll bet many of these and many other accomplishments would not have occurred without her. She is one "standout" volunteer, like so many others in the Public Involvement Program of DFO.
Thank you Doug , Renee and others for sharing her with us. She loved what she was doing and she did it so very well. I was blessed to know her.
In the end, this world is a better place because of her.
We all will miss her tremendously.
Thank you.